consists of special food wrap grade polymers of polyvinyl chloride (PVC) and polyethylene that are used to make sanitary food wrapping and packaging film (PE).
​
As a reputable cling wrap supplier, we provide heavy-duty cling wrap to meet the various needs of our clients.
Smaller rolls that are packaged in a handy, strong cardboard carton with a manually perforated edge.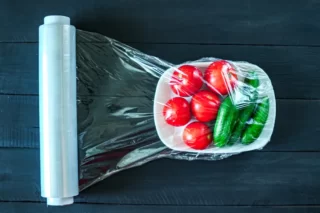 Ideal for companies like airlines, hotels, restaurants, and bakeries. Along with refill rolls, we can also provide an eco-friendly reusable dispenser.
intended for manufacturers and retail chains that want high stretch and high cling. A 45 cm wide electric hand packer is another option we have. For your convenience, we also provide portable plastic boxes.
Cling films ensure the protection of food.
It makes vegetables and fruits last longer and fresh.
It is preferred in terms of hygiene and health.
You can wrap it in the form of large coils or in any size you want.
We can produce and supply packing tapes in requested sizes to meet your exact needs and specifications.
Consultation form regarding importing from Turkey: